Commitments
Texen, responsible for People and the Environment
The Texen Group's CSR (Corporate Social Responsibility) development is based on 4 pillars:
1. Ethics and governance
The Texen Group considers CSR to be an essential company value. Led by the Executive Director (CEO), it's instilled in all staff members through cross-cutting communication driven by managers. Texen's CSR positioning is also the subject of enhanced external communications. These cover funding topics and important news, including benchmark ratings such as Texen's recent Ecovadis Platinum placing it in the top 1% of companies.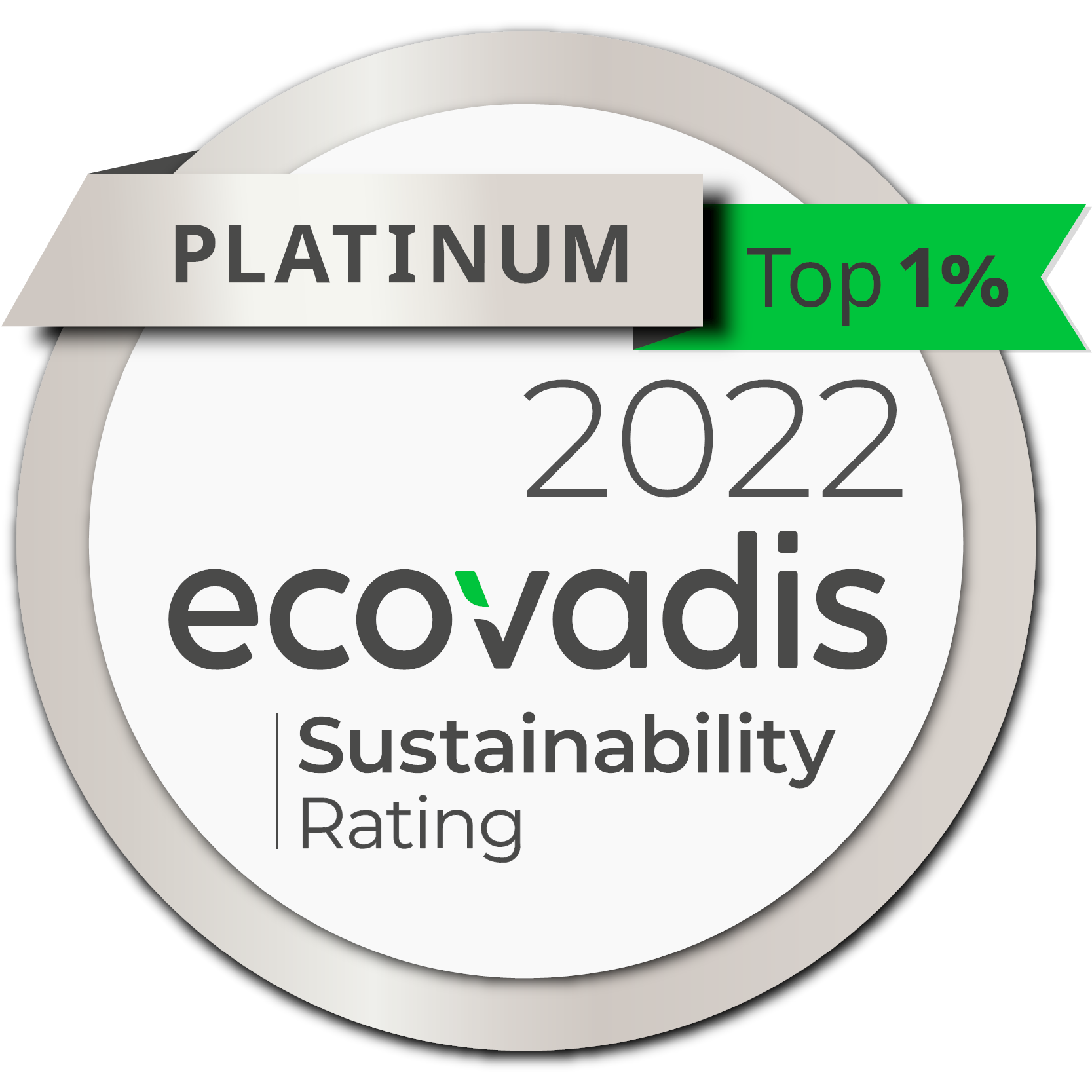 2. High demands, caring culture
Bringing out the value of People and their skills
Texen's human resources policy is based on employee accountability, mutual respect, and professionalism. This corporate culture founded on know-how benefits both customers and staff.
In the context of skills recognition, several actions are implemented to adapt and further the internal expertise of all employees. For example, Texen has established and is developing several CQPs* (Professional Qualification Certificates) for technical occupations such as injection and decoration, allowing operators and technicians to progress their careers within the group.
In addition, Texen has created a community of managers concentrated on its Leadership Academy track, which includes a focus on deploying a culture of accountability.
Finally, as part of its recruitment policy, the group has made a firm commitment to Reforest'Action. For example, the "one new employee, one new planted tree" program led to 78 trees being planted in 2020, equivalent to 11 tonnes of stored CO2.
*the CQPs issued by the professional branch, recognized by all companies in the sector, provide formal recognition of employees' skills. They can be accessed through acquired experience validation (VAE) or training.
Health and Safety
Texen looks after employee health and safety day-to-day through well-established procedures that are shared and recognized.
In the context of its Quality – Safety – Environment certification, the group is implementing health and safety management systems with the aim of certifying all production sites by 2023 in accordance with ISO standard 45001.
Texen initiated specific safety arrangements in response to the pandemic, developing a model of vigilance and sustainable protection.
Examples include designing surgical mask attachments and implementing reusable masks, illustrating Texen's responsiveness to guarantee employee safety on a daily basis.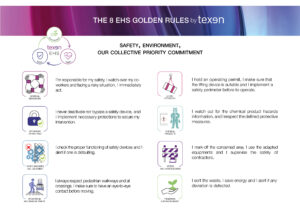 3. A committed environmental policy
Be a socially-responsible organization for our employees, consumers and the planet:
Reinventing Luxury & Beauty packaging by being a major player in a responsible packaging industry to drive the ecological transition
Making our employees central to our transformation by being an attractive and innovative company to support our transformation
Acting ethically and responsibly by aligning ou business operations with our values
Environment and Quality
Texen supports ecological transition, mitigating the impact of its industrial activities through its environmental policy.
In the context of its Quality – Safety – Environment certification, Texen is committed to ISO 14001 certification for all its production sites in 2022, along with the implementation of an Environmental Management System (EMS). The aim is to identify and control the environmental impacts of its activities in the various countries in which its facilities are located.
Currently, all Texen sites are certified ISO 9001 V2015, six already have ISO 14001 certification, and one site is certified ISO 13485.
Management of emissions, waste, and consumption
At a group level, Texen meets its responsible production aims by focusing on production tools and channels that consume increasingly less energy.
In recent years, Texen has committed to a plan to reduce organic solvents through the use of high dry extract varnish (HES), innovative emission reduction techniques, and spray optimization.
Although a significant portion of its waste is now recycled, Texen continues to limit all the waste it produces on a day-to-day basis to best conserve our planet's resources.
Contribution to the circular economy
The circular economy involves reducing a product's environmental impact right from the point at which its materials are sourced. Texen is committed to increasingly integrating recycled and biosourced materials into its products. In 2020, the group was awarded the MORE (Mobilisés pour Recycler) label by the Fédération de la Plasturgie et des Composites. This label is awarded to industrial manufacturers who source recycled plastics for their products.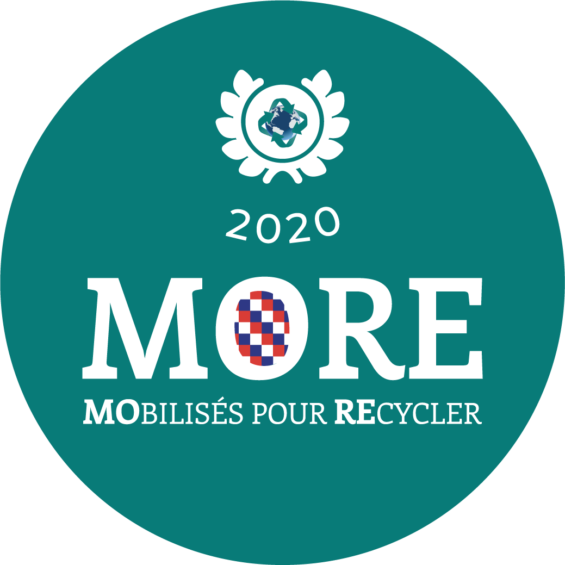 4. A Responsible Purchasing Policy
Texen's employees are committed to acting responsibly, ethically, and sustainably, fostering mutual respect and a caring culture. This commitment underlies the group's development strategy.
Purchasing represents a significant portion of Texen's commercial activities, with the group drawing upon responsible suppliers. Their commitment guarantees a secure and reliable supply chain.
In the interests of reciprocity and continuity, Texen's Purchasing Department intends to integrate all suppliers into its efforts for continual improvement. Suppliers are invited to join Texen in this commitment by signing the Responsible Purchasing Charter and ensuring that their own partners also adhere to it.
5. A new employee, a planted tree
As part of its CSR commitments, Texen has planted 74 trees in Varages (83), thanks to the arrival of 74 new employees in 2022.
Texen is once again partnering with Reforest'Action to reduce its environmental impact and participate in the reforestation of forests.
We will renew the partnership in 2023 and continue to act for the good of our planet.
This represents:
11 tons of stocked CO2

222 animal shelters created

296 months of oxygen generated

74 hours of work created